Oil Change Plus at
Foam and Wash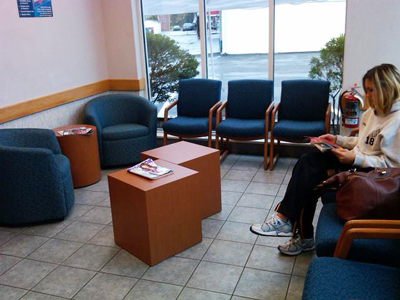 Hours of Operation for Oil Change Plus Locations
Monday-Friday 8:00am-7:00pm
Saturday 8:00am-6:00pm
Sunday 9:00am-5:00pm
Closed on Thanksgiving, Christmas, New Years Day, Easter and Independence Day. Most other holidays open 8am-4pm.
NYS Inspections are available at all Oil Change Plus locations, while you wait, no appointment necessary.
---
Oil Change Plus Services
At Foam & Wash we provide oil changes and other preventive maintenance for your vehicle. All the automotive services that we offer are designed to assist you in increasing the life expectancy of your vehicle. For the SERVICE and CONVENIENCE you come to expect from Oil Change Plus, just drive in and wait in our clean and comfortable waiting area. All services are performed while you wait, no appointment needed. Enjoy a cup of hot coffee or cool soft drink on us. No appointment necessary!
Oil Change Options: Regular, Semi-Synthetic, Synthetic, High Mileage
Other preventative automotive services include:
Vehicle Inspections - No Appointment Needed
Engine Flush
Fuel Injection Cleaning
Transmission Fluid Exchange
Radiator Antifreeze Exchange
Power Steering Fluid Exchange
Differential Fluid Exchange
Cabin Air Filter
Engine Air Filter
Lubrication and Fluid Level Check
Battery Replacement
Fuel Filters
Air Conditioning Recharge
Serpentine Belts
Windshield Wipers
Bulb and Lamp Replacement
Computer Diagnostic Check
Tire Rotation
and more...
---
Foam and Wash Oil Change Plus Service Creed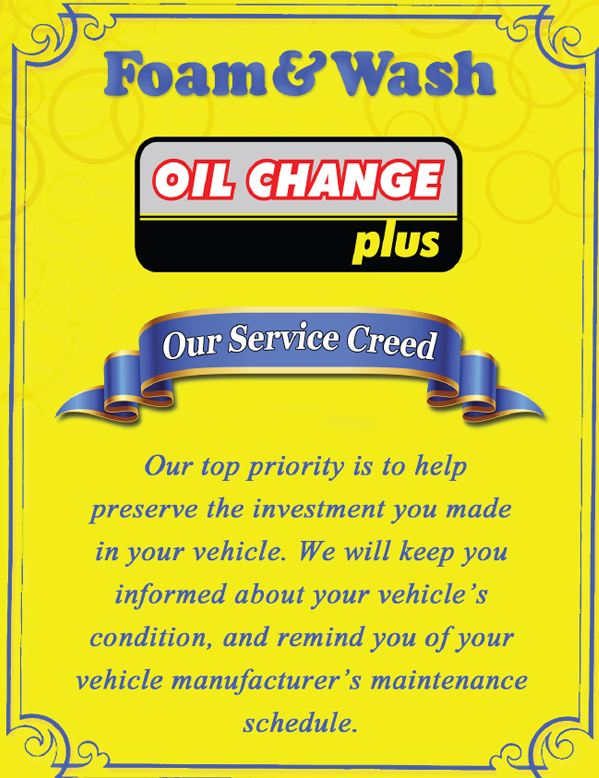 ---

Oil Change Services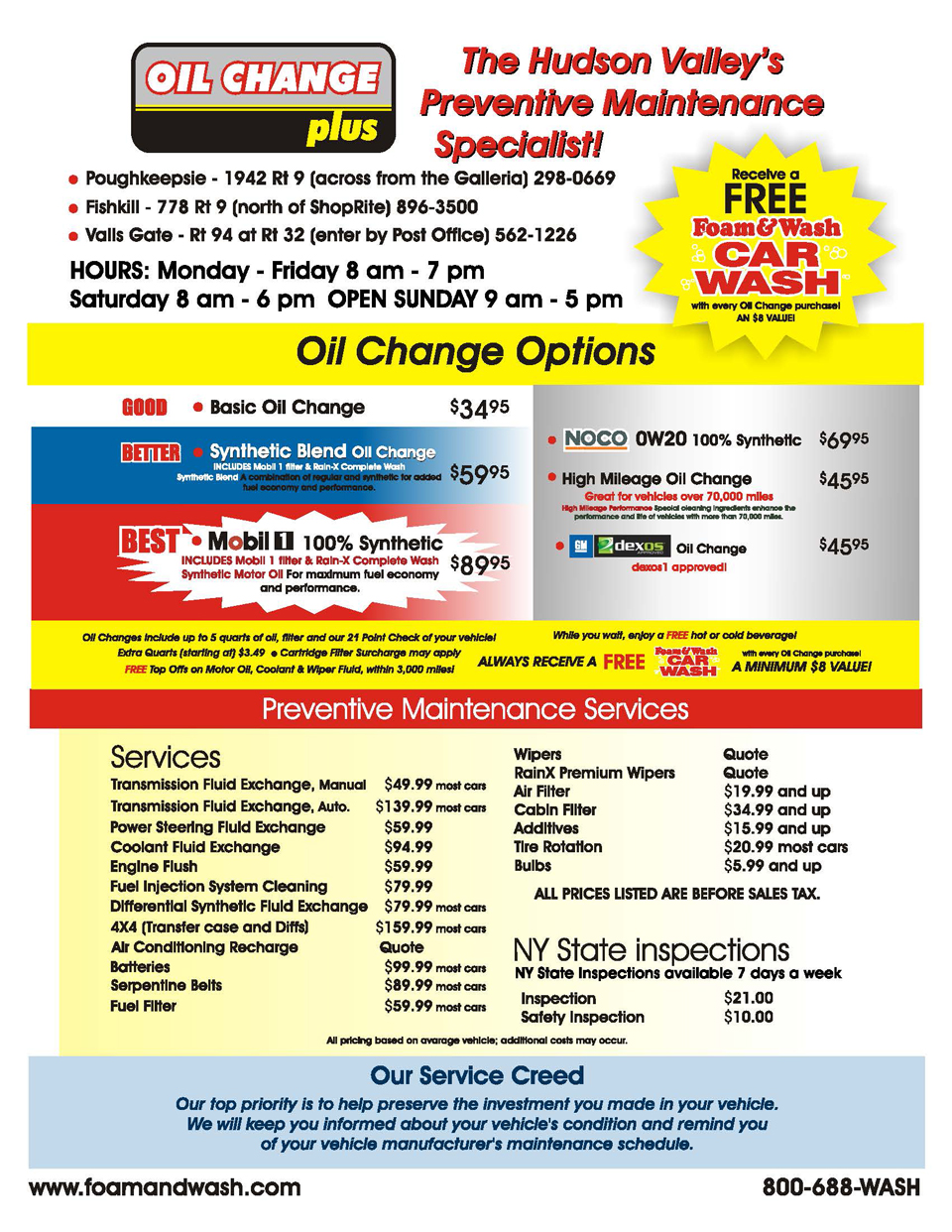 All pricing based on average vehicle; additional costs may occur. All prices listed before sales tax.
Multiple Service Discounts
Purchase Two Preventative Maintenance Services from the List Above and SAVE $15.00!
Purchase Three Preventative Maintenance Services from the List Above and SAVE $25.00!
All Oil change Plus Oil Changes include New Oil filter, Fluid Top Offs, and up to Five Quarts of Fresh New Motor Oil. Also Enjoy a Free Cup of coffee or Soda, free Fluid Top off (for up to 3000 miles) and a Free Foam and Wash Car Wash.
Let us take the worry out of costly repairs or breakdowns by regularly maintaining your vehicle with our exclusive 21 Point checklist. We service most makes and models of cars and trucks, and you never need an appointment.
Most vehicles come with a manufacturer warranty that requires you to maintain it with periodic services. But you don't have to pay dealership prices. The Magnuson-Moss Warranty Act permits us to perform these services for you, and we almost always charge less than a dealership. We also keep a maintenance history for you, taking the hassle out of keeping track of your vehicle's maintenance routine.
Our full service oil change usually takes only 20 minutes to complete after we drive your vehicle into one of our bays. Service may occasionally take longer due to the mechanical complexity of certain vehicles.
Oil Change Plus Offers Four Types Of Oil
1.Full Service Uses regular motor oil to extend the life of your vehicle's engine.
2.Synthetic Blend A combination of regular and synthetic for added fuel economy and performance.
3.Synthetic Motor Oil For maximum fuel economy and performance.
4.High Mileage Performance Special cleaning and conditioning ingredients enhance the performance and life of vehicles with more than 70,000 miles.
Lube Book Passes are available at all Oil Change Plus locations
Lube Book Passes – Oil Change Plus
Oil Change Plus Lube Book passes make a great gift for someone you know who cares about their vehicle. Whether a Birthday, Fathers Day, Coach or Teacher, Christmas or any other holiday get them a gift you know they will use. Buy now.